Personalized approach to site furnishings
Lexicon's multi-functional modular components bring a full spectrum of inspiring choice to custom site furnishing. Whether you're looking to encourage interaction or invite quiet reflection, Lexicon will interpret your vision with style and superior performance.
Use an array of easy-to-assemble geometric shapes to create your own curved or straight, backed or backless bench configurations in Maglin's Product Builder. Triangular or Square modules create versatile angles and curves and can function as either side tables or stools. Want to add a bit of greenery? Remove the cover and you've created a planter. True to the collection's modular and adaptable design, Lexicon tables can be configured to allow a customized look. Mix and match styles, surface materials, colors and accessories.
Lexicon is available in Metal, Wood (Ipe, Thermal Ash), High Density Paper Composite (HDPC – Charcoal, Sandstone), High Density Polyethylene (HDPE) Orange Peel Appearance (Grey, Green, Brown, Black, Orange and Blue) as specified. Four steel leg types are available for Lexicon seating, with or without arms.
Refer to Maglin's Layout Gallery for some design inspiration and pre-defined Lexicon Layouts.
Maglin Product Builder
Use an array of easy-to-assemble geometric shapes to create your own Lexicon configurations. Use the interactive platform to select, build, visualize, and confirm your selected components before placing an order.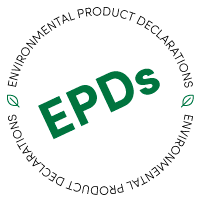 Environmental Product Declarations (EPDs) are available to help you make the best and most informed specifying decisions.