The Original MVP of Outdoor Versatility
Transform outdoor spaces with the original MVP of outdoor versatility – the Ogden Collection. With its innovative modularity, Ogden allows you to tailor seating solutions precisely to your space, offering an unmatched level of design flexibility.
The Ogden Collection draws its inspiration from the success of a custom curved bench that Maglin crafted for the Ogden International School of Chicago more than a decade ago. Since its introduction, Ogden's modular design and customizable details have made it a staple of Maglin's standard product lineup.
Ogden empowers you with adaptability and responsiveness, enabling you to precisely customize backed and backless, curved, circular, and straight benches for your space. Make waves with a serpentine bench, create comfortable seating on a wall top, or make a bold statement with a striking mitered 90° corner. Whether you're planning a new outdoor area or enhancing an existing landscape, Ogden effortlessly adapts to your site's requirements. Choose from various radii, materials, and leg or mounting options to perfectly align with your vision.
Refer to Maglin's Layout Gallery for some design inspiration and pre-defined Ogden layouts. To download files, head over to the Product Data – Resource Library and search for Ogden.
Maglin Product Builder
Design your unique Ogden layout with backed, backless, circular, curved or straight options. Use the interactive platform to select, build, visualize, and confirm your selected components before placing an order.
Modular Tables
Optimize the arcs, curves, and straight lines of your Ogden bench by adding modular Ogden tables that invite users to really lean into their leisure time, take their remote work outdoors, or catch up with friends over a latte. The new modular tables align perfectly to match the radius and flow of your Ogden bench offering you a truly personalized and harmonious design experience.
Contact your Maglin representative to start designing your modular table today!
Integrated Tables
New! Integrated Tables now offered on square armrests, compatible with backed and backless Ogden benches. Featuring a 12-inch surface, this convenient addition creates an inviting outdoor study or work environment, ideal for placing a coffee or work essentials.
Start building your next Ogden project and incorporate armrests with integrated tables with the Maglin Product Builder.
Animate Shared Spaces with Ogden!
Ogden makes it easy to plan outdoor spaces with site furniture in mind or incorporate beautiful seating into mature landscapes.
The Ogden Collection is comprised of a Steel frame with seat and back material available in Wood (Ipe or Thermally Modified Ash), High Density Paper Composite (HDPC – Charcoal, Sandstone) and High Density Polyethylene (HDPE) Orange Peel Appearance (Green, Black, Grey, Brown, Orange and Blue). Choose from wall-mount, pedestal, square and cantilever bases. Bench arms and skate deterrents also available.
Seating slats can be straight or curved to a variety of radii, as well as oriented front to back or left to right.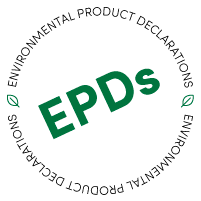 Environmental Product Declarations (EPDs) are available to help you make the best and most informed specifying decisions.