May 3, 2021
Camp North End
,
Charlotte
,
North Carolina
Camp North End: An adaptive reuse model of creativity and innovation
Camp North End is a singular place with an endless variety of attractions: dazzling public art, trend-setting retail, inspired office space, eclectic programming, and events. Once the site of automobile and missile manufacturing, Camp North End is now a hub for innovative start-ups, established businesses, renowned chefs, artists, musicians, and community members. The opening of one of Charlotte's largest adaptive reuse projects to date is a reintroduction of facilities that have long held importance in the lives of Charlotteans.
Model Ts and Missiles: the manufacturing past of Camp North End
The spirit of innovation at Camp North End traverses the 20th Century, from Ford Model T and Model A cars on assembly lines to missile production at the height of the Cold War. ATCO Properties & Management acquired the property in 2016 with the vision of redeveloping the existing buildings into a creative community hub where thousands of people come to work or spend time every day. The 76-acre site, opened in 2017, now boasts over 40 tenants.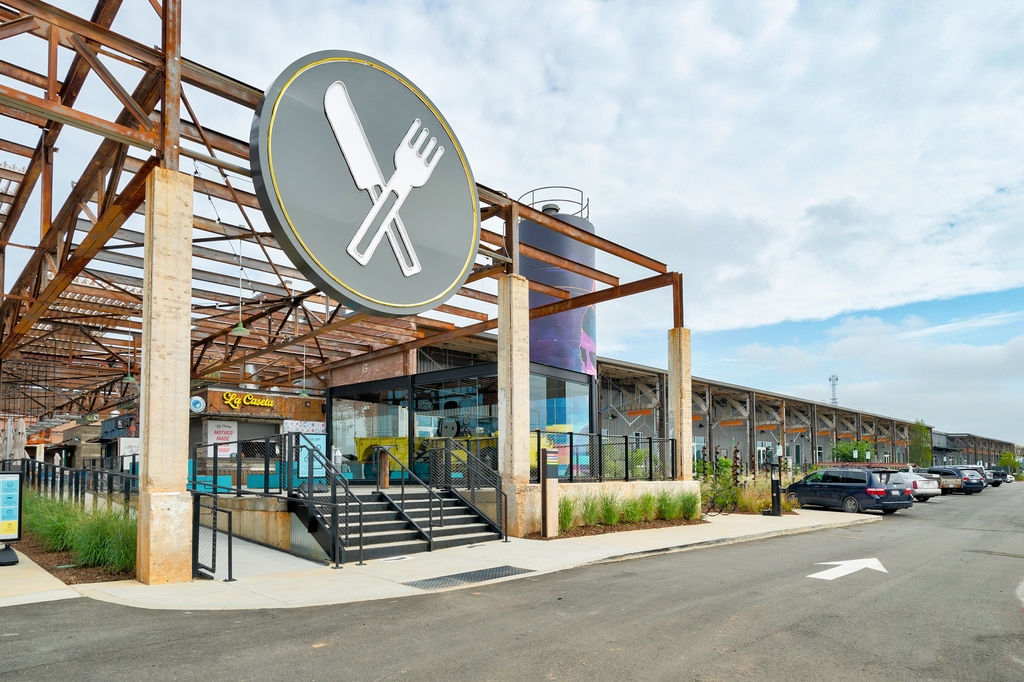 An award-winning and wellness-boosting built environment
"It all starts with and comes back to people. We believe people do their best work when they are happy, healthy and inspired. When designing a place where people will spend many of their waking hours, we take seriously our responsibility to provide space that will unlock their potential and facilitate healthy and inspired lifestyles, which directly impacts their productivity and the success of their employers," Damon Hemmerdinger, co-president of ATCO Properties & Management, quoted in Commercial Property Executive
Providing a healthy and safe indoor and outdoor environment for tenants and visitors is central to ATCO's vision for Camp North End. The location is one of the first of four properties in North America to receive Fitwel Community Design Certification – the national building standard offered through the Center for Active Design. Fitwel's designation evaluates and rates the health impact of the built environment to improve occupant wellbeing.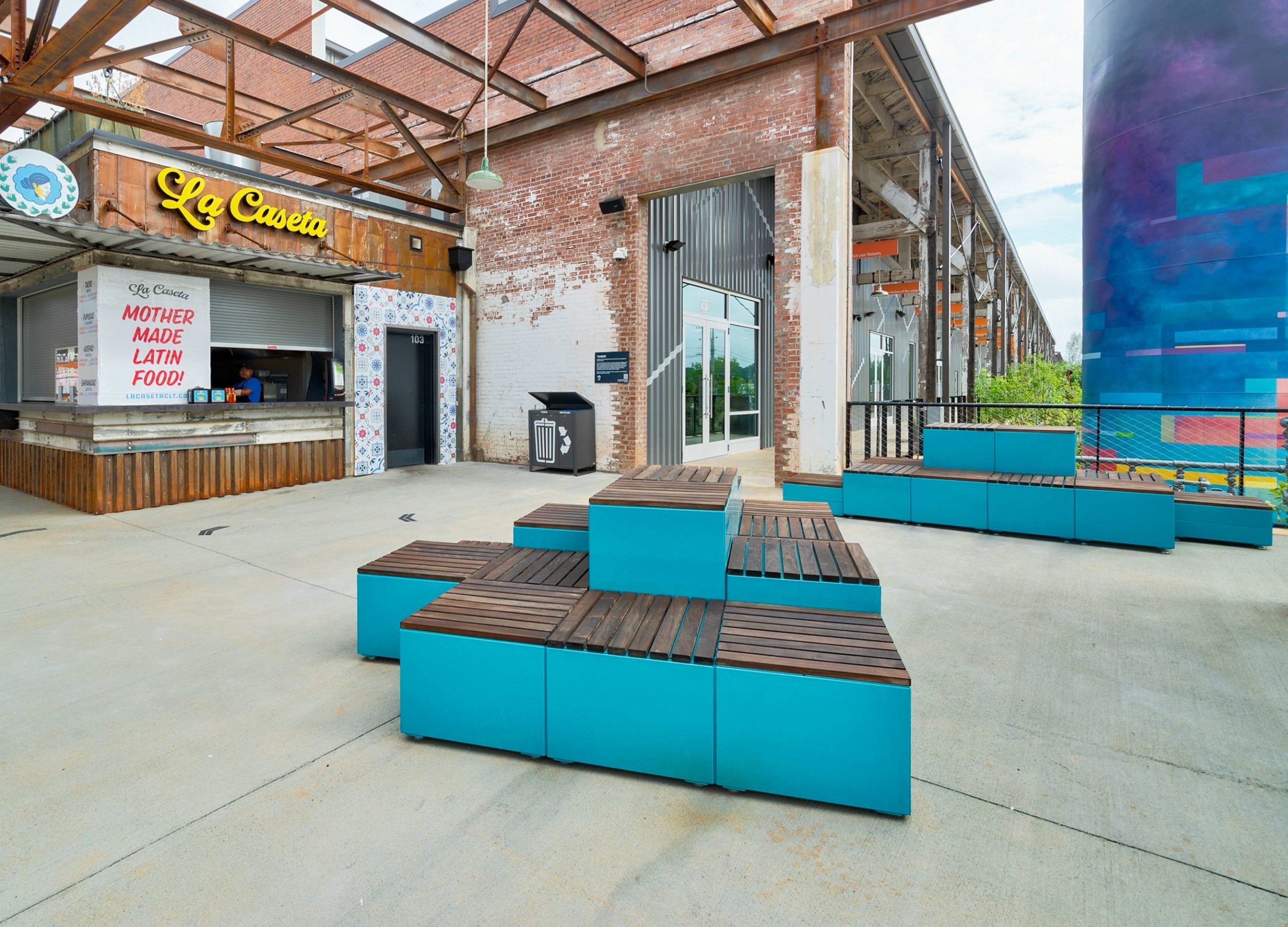 The building blocks of activated spaces
Located near the food stalls in the recently opened Gama Goat Building are three Maglin Pixel seating structures in bold turquoise and now-naturally aged Ipe wood. On any given day, you can find people enjoying fresh pupusas from La Caseta, sipping Hex Coffee, hanging out with friends, or enjoying live music from the tiered seating blocks. Working hand-in-hand with Maglin Territory Manager Andrew Coen and Project Coordinator Krista Witte, the team at Camp North End participated in designing these elements to achieve their creative vision.  The design process consisted of a live, collaborative session in the Maglin Product Builder (an online configuration tool that renders unique designs in 3D; creating a live visual experience as the product is built) to craft seating that serves as a design focal point and a place to congregate and sit.
Nearby, two ivory Pixel structures sit at opposite ends of a corridor between Class A office buildings, offering a quiet place for employees to meet or rest during workdays. Conifers planted in Pixel's integrated planters anchor both layouts and create a tranquil place to relax and dream up ideas for the next project.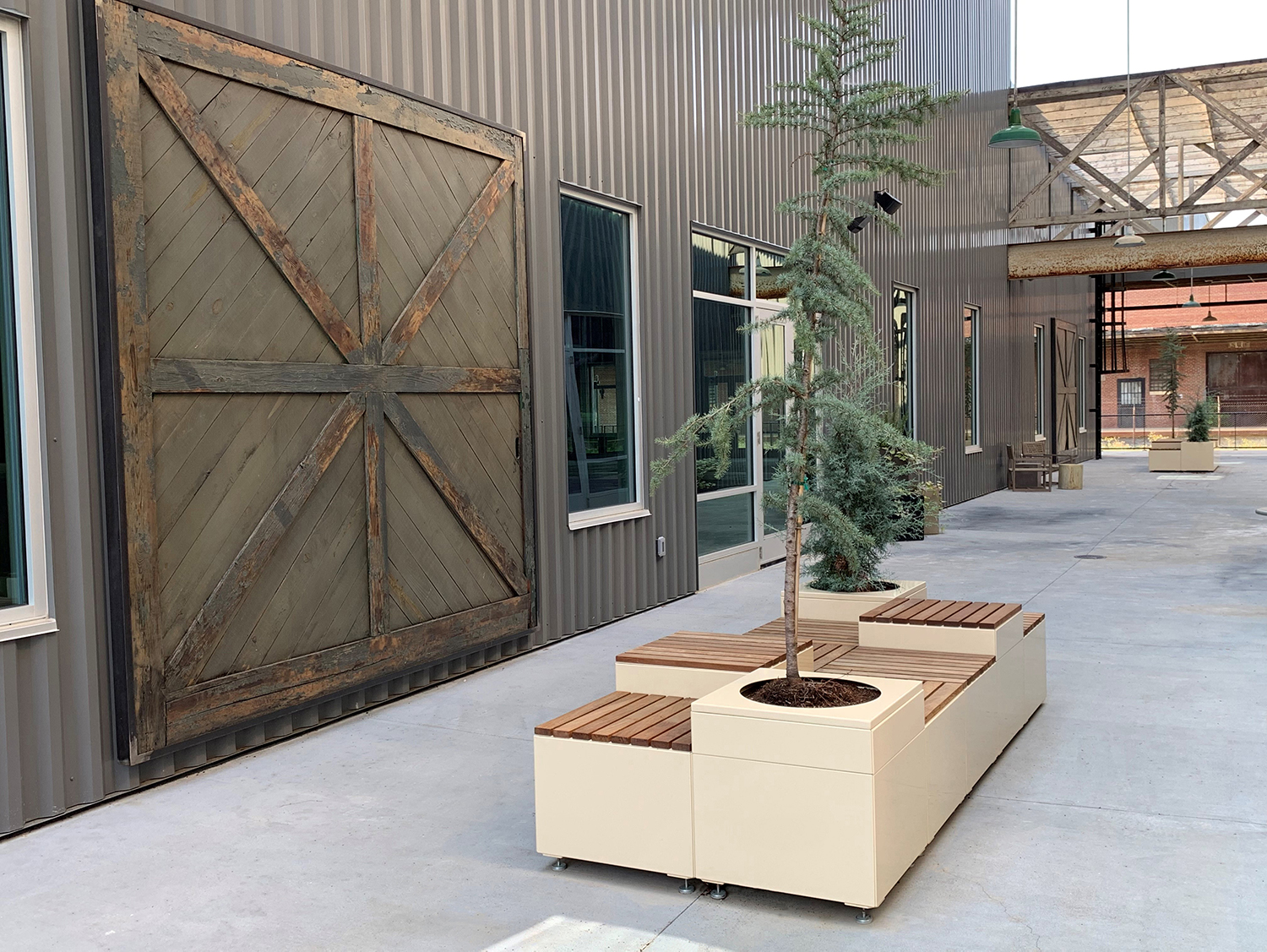 Behind the Scenes
Team Maglin visited Camp North End to get a first glimpse of the Pixel seating on site.
Next steps
Camp North End has already established itself as a top destination in Charlotte by attracting top tenants, being featured in prominent travel blogs, and even boasting a visit by a future president. Over the next two decades, Camp North End will expand to 3 million square feet of office, retail, restaurants, public spaces, events, hotels, and residential development to solidify its position as a vital urban center.